Visual Merchandising: How to Make Your Brand Stand out with Custom Retail Displays
When you walk into a retail store, what is the first thing that you notice? Is it the product that you're looking for, all of the signs and advertisements, the people, or maybe something else? Most of the time, your eyes are going to be drawn to any number of elaborate retail displays, especially at the front of the store.
So when you're trying to sell your products, the question is, "How do I make my product stand out from all the rest?" The answer is simple: eye catching visual merchandising. At Display Craft Manufacturing Co., we love building stores and manufacturing fixtures for our clients. We have a long history of success and we want to continue to expand our market; but first, let us walk you through what we will work on to make your brand stand out.
What is Visual Merchandising?
In the retail industry, visual merchandising is what business to consumer (B2C) companies use to maximize sales by creating floor plans and three-dimensional displays that highlight the features and benefits of a product. When displays have a significant visual impact, it is more likely that customers will be attracted to what you're trying to sell. And, when it comes to your business, we all know that drawing in the customer is key to making sure that they purchase your product.
Even though your product is important, no one is going to want to buy it unless it has a visual impact. That is why displaying your product is just as important as the product itself. Display Craft will take the time to learn the needs of your brand and how we can best improve your customer's experience.
Elements of Good Visual Merchandising
There are many elements to take into consideration when it comes to creating good visual merchandising. You want people to recognize your brand from just a glance, and to accomplish that, a few things need to happen first.
Use Compelling Color Combinations
There is no limit to how creative you can be with the color combinations in visual merchandising. If your goal is to have a visual impact and "wow" your customers, use bright, complimentary colors like lime green or hot pink. If you want a more subtle approach that still catches a customer's attention, maybe a sleek solid color is more on point with your brand. Each color has a certain psychological trigger in a person's brain that most people are not aware of, so experiment with how each color makes you "feel." Regardless of what you choose, stay true to your product and your brand.
Use Focal Points
Symmetry and balance are important aspects of your display. If you are in a department store that has other competitors' retail displays, you are going to want to stand out amongst all of the other visual noise. If you have control over the layout or how your product(s) will display, think about how the floor plan will affect customer experience. Having clearly defined focal points will help pull your customers through the store in the direction that is most beneficial for your products.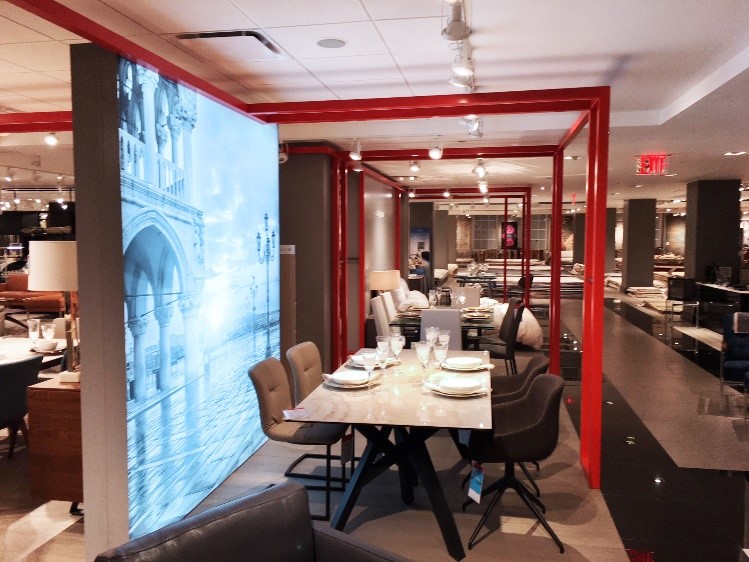 Create Maximum Merchandise Exposure
If you are selling multiple products, consider putting the most-used goods at the back of your store or display. Doing this will pull your customer in and force them to walk by other products on the way to their goal product. If you place higher market items on the path to your more consumable product, there's a better chance customers will make additional purchases along the way. While this may seem excessive, exposing your merchandise as much as possible will have the best visual impact on your products and make for better sales.
Engage Other Senses
While most of the time customers consume things visually, more creative visual merchandising will stimulate other senses as well. If a customer is looking for your product in a store, it is likely that they are going to want to touch it and experience the product first hand. This is especially helpful if your product is consumable, because you can also have samples (food or otherwise).
Tell a Story
No one likes to be told what to do or what to purchase—it comes off as pushy and may make for a more negative customer experience. That's why using the adage of "show, don't tell" is the best practice when it comes to increasing sales for your product. Taking a more subtle approach to your sales with impactful visual merchandising is key. Whether that's through mannequin displays, having employees wear your product, or presenting products in a display that looks like a consumer's home, your customers will appreciate not having advertising being shoved blatantly into their faces.
Examples of Good Visual Merchandising
Sometimes it's hard to, well, visualize what you want your visual merchandising to look like. You know you want something eye catching and that has a significant visual impact on customer experience, but what exactly does that look like? Display Craft has over 70 years of combined experience in this business, and we are happy to share some examples of retail displays that we have done for some big name clients.
If you are still not sure what direction you want to take your retail display, connect with us today. Display Craft understands that custom work requires custom capabilities, which is why we are committed to the highest levels of quality and service. No matter the customer or project, or whether it's your first store, a multi-store rollout, wholesale, an outlet, or a POP program, Display Craft will work with you every step of the way.