5 Reasons Why the Look of Your Retail Display Matters
Whether you are a new store owner who wants to ensure a successful business from the start or a veteran owner who wants to increase sales, the look of your in-store retail displays matters. How you display your products for sale impacts your brand's tone and value, attracts customers, and affects sales.
That's why you need to display your items for sale in an attractive way that entices customers to enter your store and ultimately make a purchase. And with more than 75 years of experience in the retail display manufacturing industry, Display Craft has the in-depth industry knowledge to achieve those goals. Let us help you create retail fixtures that delight customers and ultimately lead to a successful business.
1. Attracts Customers into Your Store
Imagine for a moment that you want to buy a home and have several appointments with a realtor to tour local homes for sale. The first home you visit has a yard filled with dead grass, flower beds that are overgrown with weeds, and a front porch falling apart.
As you pull up to this home, would it even make you want to see the inside? It doesn't matter if that home hits every point on your list of "must-haves," the outside appearance turns you off from the start. You may even be questioning the capabilities of the realtor who brought you there.
Think of your storefront the same way. If you display products in an unorganized, unkempt, and unintentional manner, you'll have a difficult time persuading customers to come to browse your products. Instead, having retail displays in compelling color combinations that use focal points, create maximum merchandise exposure, engage other senses, and tell a story is a winning strategy to attract customers into your store.
2. Creates a Good First Impression
Let's go back to our home-buying analogy. Imagine the next house you visit has an immaculate green lawn, with a gray stone pathway leading to a front porch with a beautiful arbor and wicker furniture. You're more excited to see this home than the last one, but once you get inside, you realize it doesn't live up to its outside appearance. Doors are falling off the hinges, the kitchen hasn't had an update in 50 years, and some light switches don't work.
An attractive storefront to entice customers into your store is the first step in creating a successful business. The second step is to make an excellent impression by having thoughtful, good visual merchandising throughout your store. Ensure you're utilizing your power wall—the wall on the right as you walk into the store. That's where customers naturally look at first, so having the right custom display there can increase your sales.
That's why you need to trust a reputable and experienced display manufacturer to create the custom retail displays your store needs to make an excellent first impression. You want customers to not only enter your store but stay and browse all your products.
Not sure how to do that? That's OK because we do. Contact us today to get started.
3. Sets the Tone for Your Store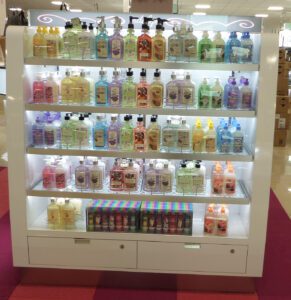 The look of your retail display matters to bring customers into your store, encourage them to stay, and set the tone for your brand. Displays that are on-brand with color schemes and tell a story help customers make sense of your brand. Consistency is essential for display fixtures, and intelligent shop owners like you want to make sure you have displays that introduce sales campaigns without being overly complicated.
4. Increases Brand Value
Another reason why the look of your retail display matters to the success of your business is because customers are going to associate the value of your items with how well they are displayed. Think about jewelry stores that sell expensive items. Their display cases are always well-lit, not crowded, and easy for viewers to see the products. Breathing room around your most valuable items translates the value of those items to shoppers.
On a subconscious level, shoppers will see that you care enough and believe in your product so much that you are willing to go the extra mile in creating custom retail displays that attract customers and motivate them to buy from you. With suitable display cases, you can increase your brand value.
5. Improves Sales
Most importantly, having beautiful retail displays improves sales. When you display your products in an organized, thoughtful manner, it attracts customers into your store, encourages them to stay, and motivates them to buy from you.
The right displays can attract impulse buyers too. These customers typically make three unplanned purchases in four out of every ten store visits, so you want to do your best to bring those customers to your store, not push them away.
For Effective Retail Displays that Attracts Customers, Contact Display Craft!
Much like the home-buyer who visited the first home with an unattractive outside appearance, having the proper retail display in the front of your store can make or break your success. Even though that home had every other feature they wanted, the potential homeowner didn't consider the inside solely based on the front yard.
And without the proper features inside to match the outside, like in the case of the second home, you can't keep customers in your store without consistent, on-brand displays that translate your brand's tone and value.
That's why you need a professional to help you design, develop, manufacture, and install your store's retail display. We'll create custom fixtures here at Display Craft that help attract customers, encourage them to browse throughout your store, and motivate them to buy from you. Your brand's reputation, value, and sales will increase when you have the right displays for your store. And all it takes is a simple phone call to us to get started.