What Are The Different Types of Display Cases Used in Retail?
In a recent blog post, we highlighted some of the different in-store atmospheres and branding experiences that visual merchandising professionals can create using the wide variety of retail store fixtures available. That article showed that different types of display cases (aka case displays) tend to be the store fixture stars in upscale or luxury retail settings.
Today, we're focusing in on those enclosed case displays to offer a closer look at exactly which types may best suit your upscale sales environment. Whether you're displaying jewelry and watches or fragrances and cosmetics, case displays will help you create the personalized sales experience your customers expect.
Here are a few of the most popular types of display cases we regularly create for our Display Craft Manufacturing clients.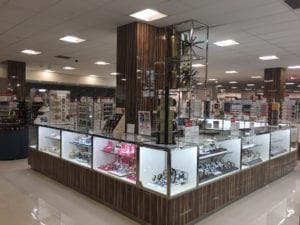 Counter Showcase Displays
One of the most popular types of display cases in retail environments is counter displays. This is absolutely because of their incredible versatility. Counter showcases pull double-duty as both a sales counter that your staff works behind and a display for merchandise that you want to be protected, but still easily accessible.
Counter showcases are typically designed as glass displays, but that does not mean they are fragile. The top surface can easily support additional merchandise and sometimes even a cash register. Take a look at this display we created for Boscov's department store to get a good sense of what's possible with counter showcase displays.
Slimline Towers
Also, in the photo above from our Boscov's installation, you'll notice a vertical tower display. While not enclosed as a showcase in this instance, these so-called slimline towers can also make great case displays.
Vertical cases can make efficient use of display space while breaking up the visual merchandising landscape within your store. The key is not to make them too tall, so shoppers can still easily see your merchandise contained inside.
In the case of this tower at Boscov's, you'll note that the higher shelves contain store décor items that aren't for sale. These are items that draw the eye but don't need to be looked at closely. The lower shelves are available for merchandise on display behind the counter.
Glass Jewelry Cases
The headline image at the top of today's post shows several different types of glass jewelry cases from an installation we did for Bloomingdale's a little while ago. Some are configured as slimline towers, while others are counter showcases and more.
The point is that different types of display cases can be classified into several categories at the same time. This is especially true with jewelry display cases. It's important to note that an abundance of glass or acrylic material is the crucial element in creating effective jewelry displays. You want your customers to be able to see all the fine details of these exquisite pieces, so they feel enticed to ask your sales staff to help them look even closer—and hopefully make a purchase!
Wall Display Cases
Whether built-in or freestanding against a wall surface, wall display cases allow you to strategically place valuable merchandise right at eye level, which is perfect for browsing. Incorporating spotlights into your wall display cases also helps to draw shoppers' attention.
Window Displays
While not technically display cases, your retail store's windows offer an opportunity for some of the most effective visual merchandising available. Whether you're located along a street in a busy downtown or open into a shopping mall environment, your windows need to entice shoppers to come through your doors.
This unique ceiling mounted window display case we created for our friends at Radcliffe Jewelers is an excellent example of using the available window space—which is expansive in their mall location—to highlight small, exquisite items.
Custom Display Cases—You Dream It, We Build It!
Here at Display Craft Manufacturing, we believe that creating customized retail experiences requires custom manufacturing capabilities, and we live and breathe this approach every day. We are committed to the highest levels of quality and service for our clients, and can help you with specialized design services, as well as planning and engineering. Once we have helped you translate your visual merchandising dreams, we fabricate, deliver, and install your store fixtures, too—on time and on budget.
Ready to get started on your next store fixture upgrade project? Get in touch with the retail display experts at Display Craft Manufacturing today!