6 Reasons Why Retail Store Displays are Important for Small Retail Space
As a business owner of a retail establishment, two important goals are to serve your customers and increase profitability. However, having a small retail space makes it challenging to set up your store in an attractive way that entices customers and promotes sales. You may think that your space is too tiny for custom retail store displays, but the truth is that you need them to create the right atmosphere that encourages buying.
Here at Display Craft, we've helped thousands of business owners like you maximize the use of their space to create eye-catching, on-brand displays that invite customers into their stores. For over 75 years, our team has honed a specific process that maximizes the use of your space while creating beautiful displays that captivate the attention of your customers and motivate them to buy from you. If you're ready to take your store to the next level with retail displays, get in touch with our experienced team.
1. Retail Store Displays Can Increase Sales
One of the biggest reasons you want to use retail store displays is that they can help you increase your sales. Store displays allow you to showcase your products in an enticing way to your customers. When customers can clearly see your products without having to dig through tables or boxes, they'll be more inclined to buy. Consider changing your displays periodically to keep things interesting and exciting.
Remember to keep your customer in mind when designing your merchandise displays with our team. Think about why they are coming to your store and what they want to get out of it. Then, create and plan your display fixtures around those reasons.
For example, if you sell homemade candles, people are coming to your store because they want their homes to smell good, enjoy the ambiance of a candle, and likely want unique scents they can't find elsewhere. In this case, you'll want store fixtures that encourage people to open and smell your candles and that highlight the benefits of the unique wax and scent formulations you use.
Unsure how to do that? Our design team can help! Simply contact us, and let's have a conversation about how we can help maximize sales for your business.
2. On-Brand Store Fixtures Help Create the Right Atmosphere
Crafting the right atmosphere is crucial to your business's success. You want your store to evoke positive emotions in your customers, and on-brand retail store displays are a fantastic way to do so. Designing an attractive front entrance invites customers into your store, but store fixtures that delight and surprise them while there will keep them in your store.
These custom-designed display fixtures also help create a unique atmosphere for your brand, which further encourages customers to stay and browse your products. And the more customers stay and enjoy the atmosphere in your store, the more likely they are to spend money with you.
3. Store Displays Organize Products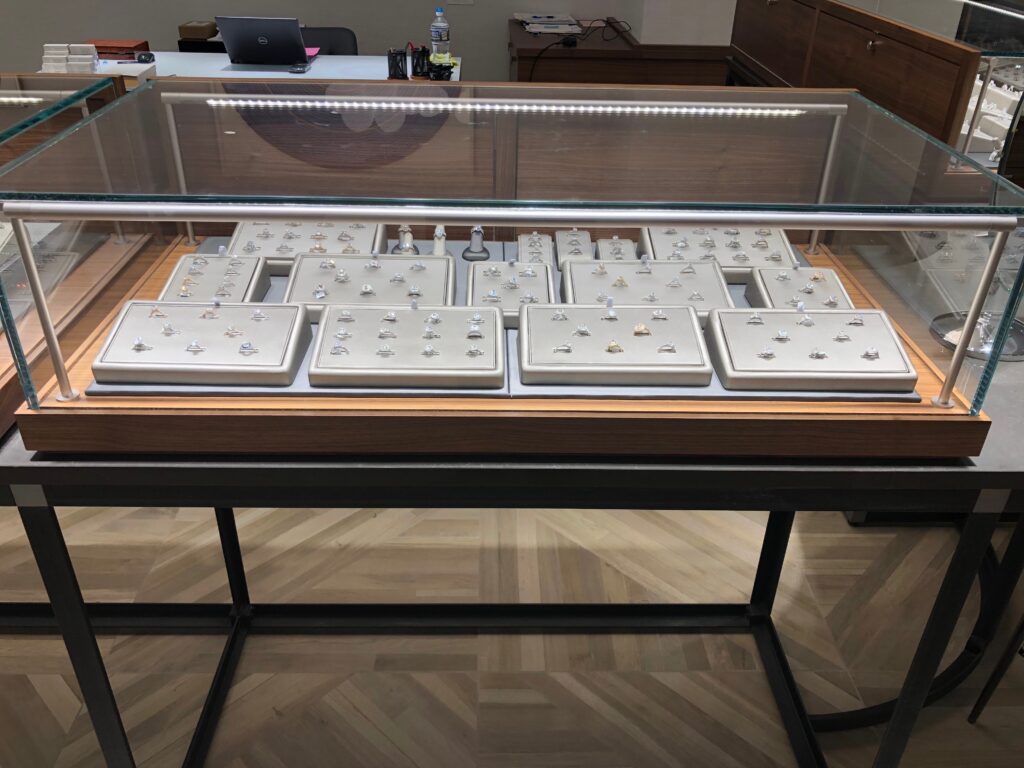 Product placement plays a huge part in the success of your business. So even if your retail space is small, you want your items to be well organized and kempt. Adding space around your articles is brilliant because it subconsciously communicates that your items are valuable to your customers. When you think about how jewelry displays are designed, you'll realize that each piece has plenty of breathing space so that potential customers can genuinely admire the items without feeling rushed.
Conversely, think about the last time you were at a thrift store. You likely had to dig through clothing racks and shelves to get a good look at the products available. You don't want your customers to have to do that at your store.
Not only does it lead to frustration, but it also leads to devaluation of your items. However, custom-built retail store displays that properly organize and showcase your items can create a positive shopping experience.
4. Flexible Display Fixtures Are Ideal for Small Spaces
Small retail spaces need to make the most use of the space available. That's why you want to work with an experienced designer and installer of retail store displays, like Display Craft. We can help with various services, like making suggestions on the best flexible displays that benefit your business.
If you want portable store displays so that you can change the layout of your store as needed, we can assist with that too! For example, adjustable shelving in cabinets or on walls makes it easy to move shelves around according to merchandise changes, making any shelving area look different with little effort. Another way to change the look of a place with little effort is by having fixtures on wheels to be moved around with ease. DisplayCraft can also help with things like built-in cabinets that make the most use of space available, including the ends of the shelves.
5. The Right Merchandise Displays Guide Customers Through the Store
How people experience your store is a big part of your success, and one aspect of that experience you need to consider is how customers will flow through the store. The way customers move through your store depends on how your products are displayed. While people will naturally look left first, they move to the right—making the wall to the right of your entrance your power wall, the area to feature popular products.
You'll also want to create a narrow enough aisle to slow down customers to see your products but wide enough for safety and comfortability. Flexible display fixtures allow you to experiment with the design of your store layout so that you can find the most profitable design for your space.
6. Displays Help Create a Focal Point
You want to highlight your items smartly in locations where real estate is at a premium. You can create focal points to highlight your most popular items using specific displays. These centerpieces of your store should feature a high-profit product to help your browsers discover it. This focal point shouldn't be near the entrance of your store because customers need to adjust to your store environment before they are ready to purchase.
For Custom Retail Store Displays that Fit Your Store, Contact Display Craft!
When it comes to setting up your small retail space, you want to be strategic in the way you display your products. You want retail store displays that help create the right atmosphere and move people through your store in a logical way. Your presentation should also be flexible so that you can adjust them accordingly to maximize sales and profit.
If you're unsure how to design your small retail space to accomplish these goals, Display Craft can help. With custom-printed shelving, checkout counter displays, and other merchandise displays, we can help maximize the use of your available space to create an atmosphere that encourages buyers to stay and spend money at your business. Contact us today to get started!